Taking It Back Outside
For the second year in a row, California Baptist University wrestling will "Take It Outside" to host another NCAA Division I opponent for an outdoor dual. On Saturday, November 14th at noon, the Lancers will host the Bakersfield Roadrunners on CBU's front lawn.
"Take It Outside II" will look to build on its inaugural event of 2014. The first installment of "Take It Outside" put CBU up against Stanford, attracted a standing-room only crowd of 2,620 and set an attendance record for an outdoor collegiate wrestling dual.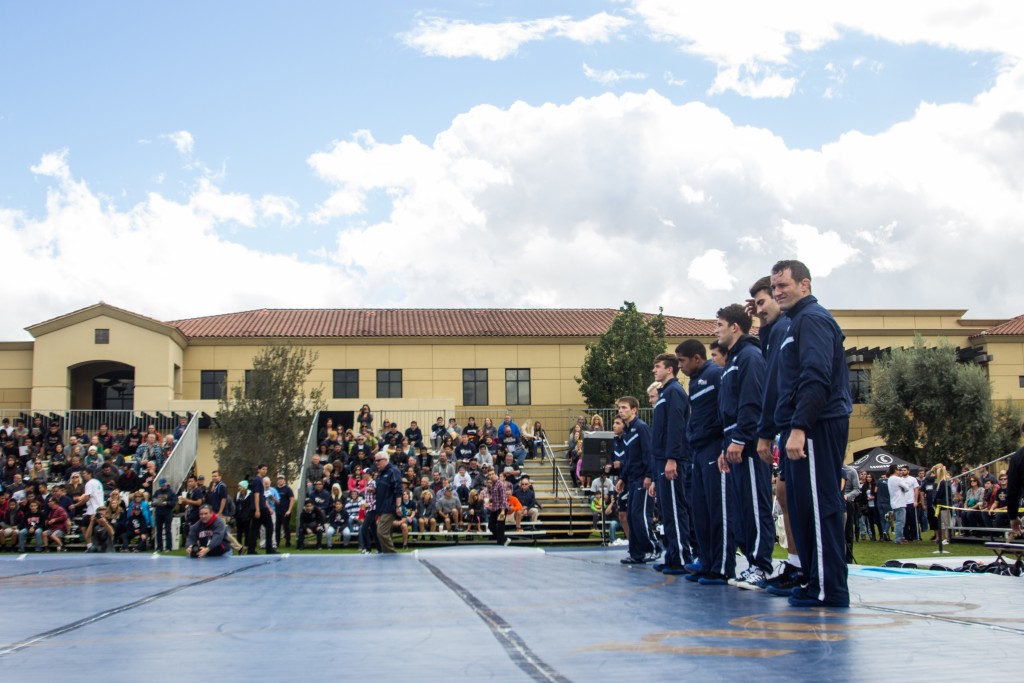 "We are excited to put on another great event for our wrestling program," CBU Director of Athletics Dr. Micah Parker said. "Last year was a tremendous success. We hope the wrestling community will continue to come support the only collegiate team in the Inland Empire."
CBU's front lawn, adjacent to Magnolia Avenue, will serve as the stage for the upcoming event again in 2015. Parking and admission to the event is complimentary. The event is designed to bring elite collegiate wrestling to the Inland Empire, with last year also including food trucks and a special guest appearance from mixed-martial arts legend Urijah Faber. More information on "Take It Outside II" and its special guests will be made available as the event draws near.
"We look forward to our third year of taking it outside," CBU Coach Lennie Zalesky said, referring to a trial outside event back in 2013. "Bakersfield is a program that has produced many NCAA All-Americans and national champions over the years. They are always tough, but I believe we will put out the best team in the history of CBU wrestling this upcoming season. I look forward to an exciting match."
It will be the fourth meeting between CBU and CSUB and third in as many seasons. The Roadrunners have won all four duals, but the 2013-14 matchup in Riverside was decided by just five points, 20-15.
Last year, CBU finished with a program-record 13 wins, advanced two wrestlers to the NCAA Division II Championships and produced its fourth NCAA All-American in two seasons. As a Pac-12 member, Bakersfield went 7-5 and also advanced two individuals to the Division I Championships in 2014-15.