LANCERS INDUCT FOUR NEW HALL OF FAMERS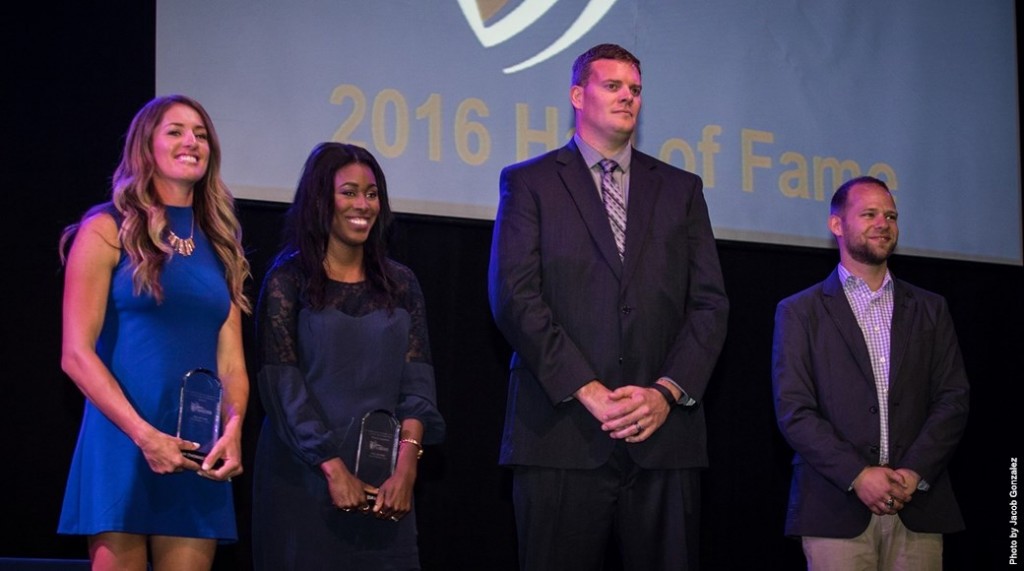 Ben Wahlman, Shaun Dyk, Nicole Adams and Amy Ramirez were all included in the induction ceremony during the CBU Athletic Department's 2015-16 Senior Banquet in Van Dyne Gym. With these four, CBU's Hall of Fame is now home to 65 legendary Lancers.
Even years after his final dive, Wahlman's records still stand in CBU's swim and dive history book. His top 11-dive scores of 533.40 on the three-meter and 515 on the one-meter boards hold up almost a decade later.
In his four-year Lancer career, the St. Louis, Missouri native earned All-American honors every chance he got, with a total of eight over in four seasons. To make it even more impressive, seven of his All-American performances were good for national championships, with the lone exception being a runner-up finish. His seven individual national titles rank first among all Lancer divers and is second among the swimmers, as well.
Wahlman excelled not only on boards but in the classroom, as he was named a two-time NAIA All-American Scholar Athlete in his career, truly epitomizing what it is to be a student-athlete at CBU.
In three years, Dyk left an indelible mark on the Lancer men's volleyball program. He not only helped CBU win two national championships in 2004 and 2005, but he became one of the premiere point scorers in program history.
Dyk is one of the best servers in the history of the program, with his 130 career aces ranking fifth all time and his 0.49 aces per set average standing as second all time. As an opposite hitter, he posted 1,113 kills on 1,975 attempts for a .380 hitting percentage, with all three of those stats in the top-five career rankings.
Of course, awards followed those numbers for Dyk as he was named to the All-NAIA Invitational Tournament teams in 2003 and 2004. He was voted the NAIA Championships MVP in 2004, leading the Lancers to their third national championship in program history and first in two years.
From the first time Adams — formerly Nicole Davis — stepped onto the court for CBU women's basketball, it was evident she was a special player. Not only would she lead the Lancers in points, assists and steals in all four seasons, she would set records that have yet to be broken.
Adams was a three-time NAIA All-American and became the program's first All-American first teamer in 2008, after ranking second in all of NAIA with a 21 points-per-game average. She was also a four-time All-GSAC selection.
In the record books, Adams holds the record for most points in a game (42), field goals made (18) and assists (15). She used to hold the record for most three-pointers made in a single-game with eight, but it was just broken this year by Kamille Diaz, who hit nine in a conference-tournament game. She also sits third overall with 10 steals in a single game.
Over her four years as a Lancer, Adams ranks second with 2,090 career points, 603 career assists, 5.29 career assists per game and 387 career free throws made. She is also third all-time with 18.3 points per game and 201 three-pointers made, and fifth in career steals with 282.
Current CBU softball assistant coach Ramirez — formerly Amy Thomas — established herself as one of the most dominant forces in the circle for CBU softball in just two years. Her performance day in and day out on the rubber garnered her both conference and national attention.
She was a two-time All-GSAC, two-time GSAC Pitcher of the Year, two-time All-Region and two-time Region II Pitcher of the Year. Not to mention, she was also named an NAIA All-American both her junior and senior years, and was named the NAIA Pitcher of the Year both seasons, as well.
Ramirez etched herself into the CBU record book and still holds the all-time ERA record with a 0.83 career ERA. She is second in opponent batting average (.180) and saves (8), while also ranking third in walks per game (1.28). Her 60 career wins stand as the fourth-best in CBU history, while she sits sixth in appearances with 66 as well as strikeouts with a staggering 371.
In single season records, Ramirez holds the second-best single season ERA with a 0.57 mark in 2007, just behind her sister and fellow Hall of Famer Candice Ulibarri, aka Candice Thomas. Her 47 appearances in 2008 sit tied with her sister for the single-season record, as well.