Tool #3: Delete in a psychologically safe way – Scientific Writing – Part 7
At this point in the scientific writing mini-series, I'm inviting you to pull up a chair (or, for those who have been to my office, a ball) so that I can show you some behind the scenes to my writing process. In the most recent blog, I walked you through how I start to find and organize research articles (on paper and in Zotero). Here, I want to show you how I move from my horizontal, unlined pages of notes to what someone might recognize as a research paper.
I start my paper by moving my dear mom draft to the top. (I skip all formatting at this step. No title page, no abstract, just words on document. Don't let formatting concerns slow down your thinking. I also tend to prefer to start writing single spaced because it keeps more ideas in my frame of reference—literally what I can see in my word document.) I revise my statement to my mom, based on the work I did in my note taking and reading. From there, I start writing.
I usually start with an outline (often a more fleshed out version of the dear mom draft). Once I have a shorthand version of what I think I might want to say in a (tentative) order that I've sketched, I just pick a section and start writing. I'm not going to beat around the bush: at this point in my writing process, I write terribly. I write with painstaking difficulty. And yet I write. The point here is to just start. The words that you write now will not (should not!) be the final words in your paper.
I realize that this is not a helpful statement. However, it's the best one that I can give you because having something on paper is necessary to really flex the next tool, I want to share with you, a tool I use to revise and improve my paper.
Tool #3: Delete in a psychologically safe way. (Alternative title: Don't love your words too much.)
In my own paper (the one I've been talking you through for the past few blogs) I had at least 8 drafts. And that doesn't include all the editing that I did that didn't meet my qualifications for renaming/calling it a "new draft".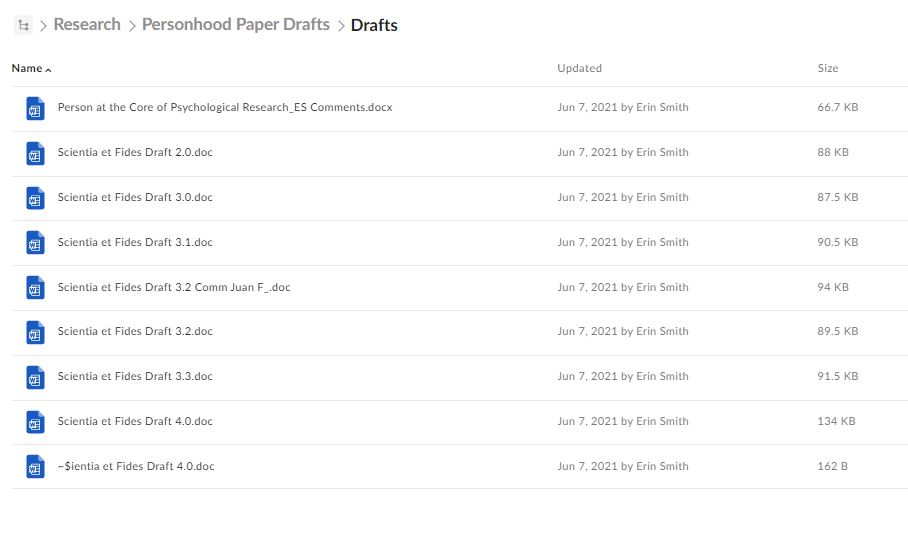 Across these drafts, I engaged four types of revisions. I'll briefly describe each, but it's the fourth that I want to spend a bit more time on.
Better words. Scholarly writing should consist of words you know and are comfortable using (e.g., don't use a thesaurus to substitute in a word you don't know), but it should also avoid being too casual/conversational (because it's not a conversation, it's an intentionally constructed argument)1. Until the paper is final, you should continuously make small tweaks. Also, the more you write, the more you will find that you have specific idiosyncrasies in your writing to watch out for. For me, it's not uncommon for me to start 2-4 sentences within two paragraphs with the world "Although." This is not good writing and I always have to go back and edit this. Although I don't want to. (See what I did there?) There are lots of good writing guides that include tips on language to use/avoid in professional writing; I have combined two of my favorite short, introductory guides here2.
More explanation. As I write and edit, I take special care to remember that the reader is not inside my head (lucky them!) and that they don't necessarily know all the things that I know. It's really easy to write and assume that your reader knows/is thinking about the same thing as you are. However, good writers will provide all the necessary information for their reader to understand all their words. As I write, I constantly ask myself, "what is necessary knowledge for this sentence to make sense?" Sometimes that means I need to explain a lot more than I originally thought I would, and I spend a lot of time elaborating to explain necessary context. (Cognitive psychologists call this tendency to overstate shared knowledge as the curse of knowledge.)
Different organization. One of the things that happens as I think through the actual communication of ideas is that I realize that I need to say things in a different order. Think about good stories: there is not one "right" way to tell it, but there are surely better/worse ways. When we write—when we tell the scientific story of mystery and discovery—we can organize our information and ideas in a way that puts us on either side of the "better" or "worse" categorizations. Sometimes when I write, I craft the same story multiple times, but in different orders, or I talk through the rational for a certain way of organizing the paper with a colleague. Both of these practices give me a big picture framework ("meta") to think about the flow of my story. It's not unusual for me to re-organize the order of communicated items when I find that I'm spending a lot of time explaining; sometimes what has happened is that I'm explaining things that depend on a knowledge of what I haven't yet told the reader about. Reorganizing can be within a sentence, within a paragraph, and—importantly—across the whole paper. Sometimes the best kinds of revisions are moving the last things said to the front3.
Deleted content. Okay, friends. This is where we need to talk. Have you ever worked really, really hard on a paper…or a paragraph…or a sentence and felt proud? I have. But the problem with this feeling is that sometimes the most perfectly crafted sentence in this draft just doesn't work in the next draft. But all that pride and hard work makes it really, really hard to delete that sentence (or word, or phrase, or paragraph…). However, good writers don't love their words too much.
I recently listened to Adam Grant interview John Greene4 (Adam Grant: a really interesting organizational psychologist; John Greene: a really interesting author of books, including The Fault in Our Stars). One of the things the two discussed was about learning to evaluate your work (and writing) from an external perspective because when we produce words, we are naturally inclined to think they are better than they are. In psychology, there is some great research that shows that when we produce something, we automatically value it higher than when someone else has produced the same thing (this is called the Ikea Effect). So, knowing all of this, how do we write (which I've said you just need to do) and then ruthlessly cut what should be deleted later?
I deal with this in a few ways:
Don't actually delete things, just move them to a part of the paper called "Things I Cut", saving them for the draft (e.g., Draft 2.1). After a round of edits, delete the section called "Things I Cut" and resave the draft as Draft 2.2. This way, if you sincerely regret having cut what you did, you can reclaim it later (with just a little bit of work). This is psychologically safe—the words are still there. But when you read and revise Draft 2.2 and realize that you don't even really miss what you cut your paper will be better for it.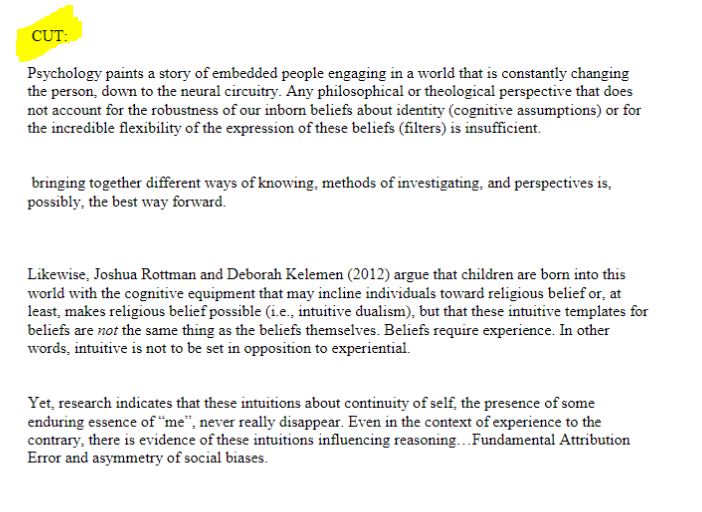 Make edits with track changes (saving pre-change/post-change as different drafts). Track changes is a wonderful way to write collaboratively, but it's also a great way to keep track of your own changes. If you've never used track changes, it's under the "Review" tab of your word document. It's easy to do/undo tracked changes and, if you save a million copies (Draft 2.1, 2.2, 2.3, 2.4) you can even track your evolution of the use of track changes in a way that makes it easy to recover if you find that your deletion was a terrible mistake.

What you might notice about both suggestions is that they both involve first distancing yourself from the words you've written without deleting them, and then practicing safe deletion (e.g., deletion that you can always go back on later, without having to re-write everything). This makes it psychologically safe, not scary, to delete because it doesn't feel permanent in the moment of deletion. I remember doing this obsessively with my dissertation. And frankly, my dissertation is the only time I've ever gone back and added in something I had previously deleted. Yet, it still feels safer to delete in stages. My final paper doesn't realize that I'm an obsessive saver and strategic deleter. My final paper just knows it's better because of all the bad words, phrases, sentences, and paragraphs I had the guts to recognize as poorly written and delete.
Maybe it's just me, maybe I'm the only one obsessively committed to bad writing (and in need of an intentional intervention to allow myself the freedom to delete it). However, I would bet this is not the case. Do you find it hard to delete what you've worked so hard to write? How do you identify parts of your paper you need to delete and how do you do it?
________________________________________
1Recent research shows that papers that use fancy words (compared to "plain" words) are not smarter articles; they are actually less likely to get cited. Bottom line? These articles have a smaller impact than other, better written articles.
2Another one is here. Some of my favorite pieces of advice from this guide include: "Academic writing may seem pompous and convoluted to you. A lot of it is, but the best is not. Do not use words just because they sound academic (especially when you aren't sure what they really mean)."and" When you read, pay attention to the different ways that people indicate the relationship of their work to the truth. Words such as indicate, demonstrate, prove (not used outside of mathematics), test (a hypothesis), hypothesize, suggest, assert, question, claim, conclude, argue, discover, define, and assume do have very specific meanings in academic discourse." and from the appendix: "Vacant Lead Sentences. The first sentences of each section, and the first sentences of each paragraph as well, are the most important sentences. They should state, in plain English, your main points. Then the details can follow."… "Distinguish between strong and weak statements. Good scientific writing uses qualifiers and caveats sparingly. Qualifiers apply to marginal results, arguable statements, speculations, and potential artifacts. They do not apply to strong findings, well-confirmed statements, or bedrock theory. "Seem", "appear", "indicate", "may", "suggest" and the like are meaningful verbs. They are not to be used reflexively."
3There are many ways to conceptualize the order of a paper; different orders serve different purposes. I think, for example, about the movie Memento which starts at the end and works its way back in time. The story is substantially more compelling because of the ordering of events. Most scientific stories won't be as dramatic as the kind of reverse chronology used in Memento, but you might find that telling this before that really improves the readability of a given paper.
4https://www.adamgrant.net/podcast/: Season 4, Episode 18
If you found this blog helpful, check out the overview of the whole series here, so that you can find more useful information to develop your writing.