The School of Christian Ministries is blessed to have dedicated and passionate faculty members who love Jesus and desire to help others love Him more. This regular feature will help you get to know our faculty members more.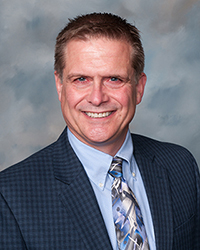 Name: Dan Wilson, Ph.D.
Education: Dr. Wilson earned a Ph.D. in New Testament and a Masters in Divinity from Southwestern Baptist Theological Seminary. He earned a Bachelor of Arts from Union University where he studied Religion and Greek.
Courses Taught – Dr. Dan (as he is affectionately known) has taught a variety of courses including Biblical Interpretation, Old Testament Survey, New Testament Survey, Intermediate Greek, Jesus & the Gospels, and Paul & The Early Church.
Q&A with Dr. Wilson
Q. What do you enjoy most about teaching at CBU?
I love the opportunity to interact with a wide diversity of students. In a given semester, I have the opportunity to interact with students taking courses for general education, for a particular major, and/or just for interest sake. I really enjoy teaching students who are getting a first introduction to the Bible and Christian faith in a Bible survey class and sometimes help to change their biases against the Bible and Christianity and Christians. Sometimes it is helping return a student to his/her Christian roots and find a new relevance for faith. I enjoy helping students find tools that will help them read and study the Bible for themselves and learn how to use those tools to interpret the Bible. I love helping students who are focused toward ministry preparation create patterns and habits of study that will shape how they do the work of ministry. I love when students stop in the office and I get the opportunity to know them beyond a classroom interaction and to speak into their lives, that is, to do the work of discipleship.
Q. Why did you choose to focus your academic study on the New Testament?
First, I love the Bible. I guess I focused on the New Testament because I had the opportunity to study Biblical Greek for several years before I even had the opportunity to learn Biblical Hebrew. I remember, when I was in college studying Greek thinking – being nurtured in by my professors, I would love to be able to help nurture like this a passion for the study of the Scriptures in young students. My focus in my preparation was primarily in New Testament Studies, but I continued to study Old Testament and still Old Testament Survey consistently. I really enjoy seeing how intertwined the two Testaments are.
Q. What is your favorite thing to do in your free time?
I love just hanging out with my wife. We often sit on the patio with books in hand, reading and being. I enjoy walking, especially with the wife and the dog-child.
Q. Your bio states that you are an amateur artist. What is your favorite artistic style and why?
It has been a long time since I've been able to focus in this direction. I have always been a doodler; I listen better with a pen/pencil in hand. When I was a full-time youth pastor, my wife recognized my interest and gave me art lessons for Christmas one year. During the next year or so, I spent a couple of hours on Tuesday evenings at the art study and found it to be a healthy way to allow the stresses of ministry to melt away. I began with charcoal, but spent most of that class-time trying to learn pastels. I love watercolor as a medium, but have had little success at learning how to use watercolor; that's my next step, I guess.