Faculty Spotlight: Matt Leonard
The School of Christian Ministries is blessed to have dedicated and passionate faculty members who love Jesus and desire to help others love Him more. This regular feature will help you get to know our faculty members more.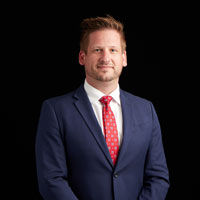 Name: Matt Leonard
Current Title: Assistant Professor of Philosophy
Education: Earned a Ph.D. in Philosophy from University of Southern California (USC) in 2019. Previously earned a MA in Philosophy (California State University, Los Angeles, 2010), and a Bachelor of Applied Theology and a Bachelor of Philosophy (California Baptist University, 2008).
Joined the School of Christian Ministries: Fall 2019
Brief Background: Dr. Leonard has taught numerous philosophy and logic courses at USC, UC Davis, CSULA, CBU, Johns Hopkins' Center for Talented Youth, and the Prison Education Project. His research interests are in metaphysics and epistemology and he has published papers in Mind, Synthese, Erkenntnis, and Ratio.
Q&A with Dr. Leonard
1. Why are you excited to join the School of Christian Ministries?
I'm a CBU alum. Fifteen years ago, I started as a freshman here at CBU, so I know just how special the SCM is. I enrolled as a BAT student and took as many theology classes as I could pack in during my time at CBU. During my Sophomore year, I took my first philosophy class and was immediately hooked. I loved the idea of having to defend why it is that I believe what I believe. So I added a philosophy major, as well. The faculty here are great. I still can't believe that I get to join them! I'm stoked.
When it comes to life's ultimate questions, most people don't believe much. While some people do have beliefs about these questions, very few people go through life ever thinking about why it is that they have these beliefs. I am so excited to be able to hang out with students and challenge them to really think about why they believe what they believe.

Does God exist? Does the evil in the world disprove the existence of God? Is there an objective standard to morality? Or is morality subjective? If it is in fact objective, what is it that makes a wrong action wrong? Is an action's being wrong determined by its consequences or are potential consequences irrelevant for why wrong actions are wrong? What does it mean to know something? Do you know whether or not you are dreaming right now? Are you sure?! Do you have a soul? Or are you completely made up of physical material? Do you have free will? Or is everything already determined? Can you be free if God knows the future? What is time? Is God inside or outside of time?

I am thrilled to be able to think through some of life's ultimate questions with students here at CBU.

2. What is your favorite thing to do for fun?
It's a tie: cooking and hanging out with my family at Disneyland. I love to cook steak (specifically, tomahawk ribeyes, the king of all steaks, which should be prepared only with salt and pepper, eaten at medium rare, with an internal temperature of 122 degrees) and pizza (specifically, Neapolitan pizza, the best pizza in the world: 00 flour, San Marzano tomatoes grown in the volcanic soil in the shadow of Mt. Vesuvius, bufala mozzarella, fresh basil, and olive oil). I also love to hang out at Disneyland with my wife and my three kiddos. Lately, I've been attempting to trick my 4 year old into riding Splash Mountain, but he won't fall for it…
3. What is your favorite Bible verse? Why?
2 Corinthians 5:21: "For our sake he made him to be sin who knew no sin, so that in him we might become the righteousness of God." I don't think I have one favorite verse or passage from Scripture, but this verse gets close. What Paul is saying here is quite mind-blowing.