Faculty Spotlight: D.A. Horton
The School of Christian Ministries is blessed to have dedicated and passionate faculty members who love Jesus and desire to help others love Him more. This regular feature will help you get to know our faculty members more.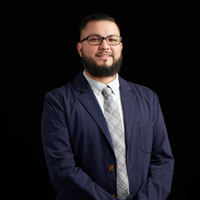 Name: Damon (D.A) Horton
Current Title: Assistant Professor
Education: Currently working on Ph.D. in Applied Theology with North American Missions emphasis from Southeastern Baptist Theological Seminary. Previously earned a M.S. in Christian Studies from Calvary Theological Seminary and a Bachelor of Science in Biblical Studies from Calvary Bible College.
Joined the School of Christian Ministries: Fall 2019
Brief Background: Professor Horton brings to CBU a rich background of engaging in ministry and in developing resources to equip the Church. He has been a church planter, has served as a pastor, and was the National Coordinator of Urban Student Ministries at the North American Mission Board (NAMB) and the Executive Director at ReachLife Ministries. Professor Horton has also written numerous books including Entering the Ring: Fighting Together for a Gospel-Saturated Marriage (Lifeway), G.O.S.P.E.L. (Moody Publishers), and Bound to Be Free: Escaping Performance to be Captured by Grace (NavPress).
Q&A with Professor Horton
Q. Why are you excited to join the School of Christian Ministries?
I believe there is great potential to see the gospel flood our world and I'm convicted that this current generation of students will lead the charge! Being part of the School of Christian Ministries will allow me opportunities to both educate and learn from them.
Q. What is your favorite thing to do for fun?
I love going to the Dodgers games with my family!
Q. What is your favorite Bible verse?
1 Thessalonians 2:8 – this passage reminds me of my need to step outside of my comfort zone by engaging with others, sharing both the gospel and my life with them, all the while being motivated by love to do so.