Elizabeth Rhodes
The most daunting part of writing can often be the start of the writing process. What to write? All writers, especially beginners, will often sit at their desks, paper, or computer in front of them with no words to put down. It can be frustrating to find inspiration when wanting to write the perfect poem. Wanting to write "perfection" is usually the first block that causes a writer not to write in the first place. Expecting to write something remarkable on the first try is an unrealistic expectation. No written work is perfect; revision and even scrapping are necessary. There is no shame in writing a "not so fantastic" poem on the first couple of tires. So, after this has been established, and if there are still no words written down there, here are some more tips that might be useful. 
Listen to some music. You might think music would be distracting when trying to write a poem, but in fact, for some, it can help motivate them to write. Poetry has a musical flow when written well, so listening to music can help the writer imitate musicality. Music also conveys a lot of strong emotions and has a story, which can help give ideas about what to write about. Music with lyrics or without are both helpful; it's often more useful to listen to instrumental or chill music; that way lyrics won't get in the way of what you are writing, but that does not mean that listening to some T-Swift won't give you some inspiration for your next love poem!  
Talk a walk. Simply going outside can give you a lot of inspiration. Many poems are derived from nature; looking at birds or walking on grass can help create ideas and images for your poetry. Though, you don't have to get ideas from nature; you can find inspiration from anything; you can write a poem about being stuck in traffic. The idea is that being out in different environments allows a writer to observe the world around them. It's essential to notice the little things; taking notes while being out can be helpful so you can remember the things you have observed when you have time to write later.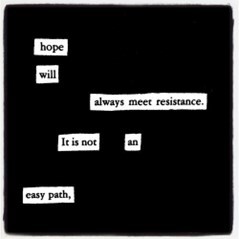 Blackout poetry is also a useful tool for inspiration. Blackout poetry is creative and simple. Get any old book that you don't mind ruining, a sharpy, and mark out any words you don't want. Keep the inspiring words or the ones that really stick out to you. Then after you cover up the unnecessary words, see if what you have can be a poem. It's both meditating and might inspire your next great poem.
Reading poetry is also essential for any poet, but most don't realize it can actually inspire a poet to write. When reading other people's work, we are more likely to learn from them and be more willing to try new forms of poetry. Listening to poetry is also helpful because poetry is best when spoken out loud; while we hear the poem, we hear the musical tone and can understand more of the author's intent in the poem when they are speaking out loud. Poetry Foundation is an excellent start to finding audio poetry, and they even have a poem of the day that can inspire new ideas!
If all else fails, then simply start writing, it doesn't matter what or if it's good or bad. Just start typing or scribbling on the page. You can start off as a prose, write a list of events that happened within the last week and don't stop, don't quit until you have nothing left to say. Then look back and take out 90% of it. Leave the important concrete words, see what you have, shape it into a form, and create a poem. See, not too bad, right?
Inspiration does not always come, but it's always available if you are looking in the right places for it. There are many days I don't want to write, or I don't know where to start. Taking a step back and looking at something I've previously written might inspire me to keep going, to realize that I too can be a great writer if I take the time and simply start somewhere. So, good luck with your next inspired poem!