Angelina Hope
In his book, Terraform, published in 2021, Chrisitan rapper, spoken word artist, and poet Jason Petty–who goes by stage name Propaganda– writes of bettering our world through terraforming. Yet, what exactly does terraforming mean? "In science fiction," Propaganda writes, "when someone discovers a distant planet that could possibly sustain life yet is still too hostile an environment for humans in its current state, a team of scientists and engineers must work over decades, or maybe centuries, to make the air breathable, the ground fertile, and the climate more suitable for human flourishing. They must get that rock to do what Earth does naturally. This process is called terraforming" (5). However, Prop's message is not referring entirely to the scientific application; instead, he is pointing to the power of stories and perspective.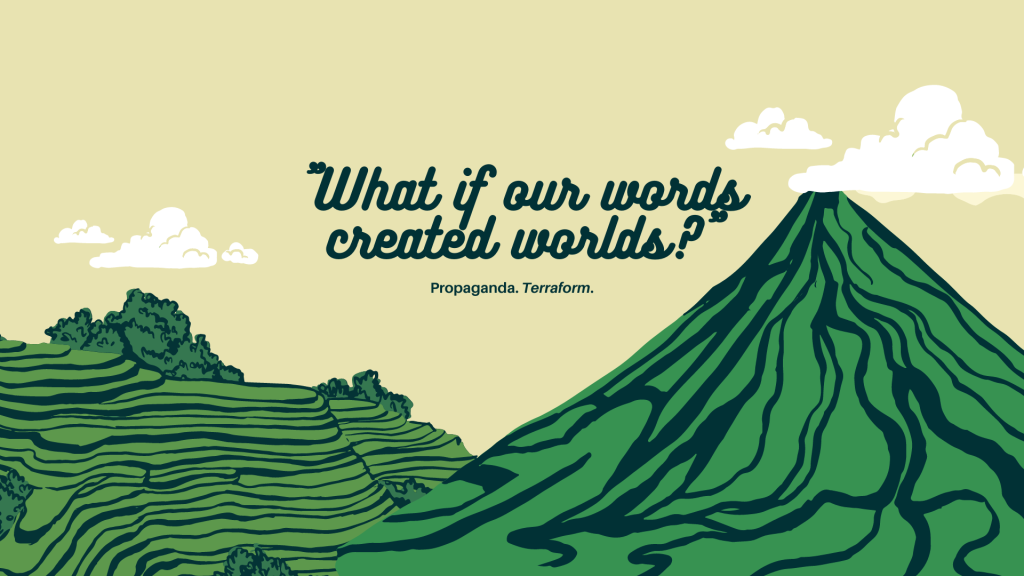 Born in the difficult regions of Los Angeles, California, Propaganda shares parts of his life growing up, touring, and connecting with God by familiarizing himself with others. It is through the foundation of words and thoughts that Prop realizes one can grow and live intentionally. "What if our words created worlds?" Words, Prop states, are what built nations, preserved identities, and nurtured healing through the trauma of the past and present. In words, we find pieces of ourselves and pieces of the earth. Take, for example, the book of Genesis. The book tells the planet's origins and our relationship with God. Before the book was written, it was told through the spoken word. In Genesis, God created light, sky, water and land, and pretty much the whole universe. This ingenious self-sustaining creation brings questions about its miraculous functions: How can the universe be expanding yet never-ending? What tells the cell to split? If God's creation is sacred, then is the soil that our ancestors have lived on and been buried underneath sacred too? The answer is yes, but how often do we find ourselves distracted by our own creation? Where do we see our purpose? "We are all we got," Prop reminds readers amidst the distractions of our culturally polluted world (83). Media, money, defamation, and cultural division hinder us from connecting with God, the planet, each other, and ourselves.
Rich with creative poetry and thought-provoking challenges for readers to participate in, Propaganda explores what it means to restore our well-being and planet. To terraform our planet, to keep it from becoming uninhabitable like Mars, we must first learn to grow ourselves and help others along the way. Be the future you want to see. Acknowledge the cultural toxicity around you, whether it be in thoughts or actions, learn to overcome it. We are, after all, all that we have got.
Works Cited
Propaganda. Terraform. HarperCollins, 2021.