The Dazed Starling: Unbound is an online publication of the Bachelor of Fine Arts in Creative Writing program at California Baptist University. Its goal is to extend CBU's Dazed Starling student literary journal's mission by offering an additional publication opportunity open not only to current CBU students but also to faculty, alumni, and friends of the university. Each edition is thematic, but the editorial staff is open to an expansive interpretation of that theme. The editors will consider submissions in a wide variety of genres—poetry, fiction, and creative nonfiction, of course, but other writing (creative, critical, devotional, etc.) that might go beyond those categories.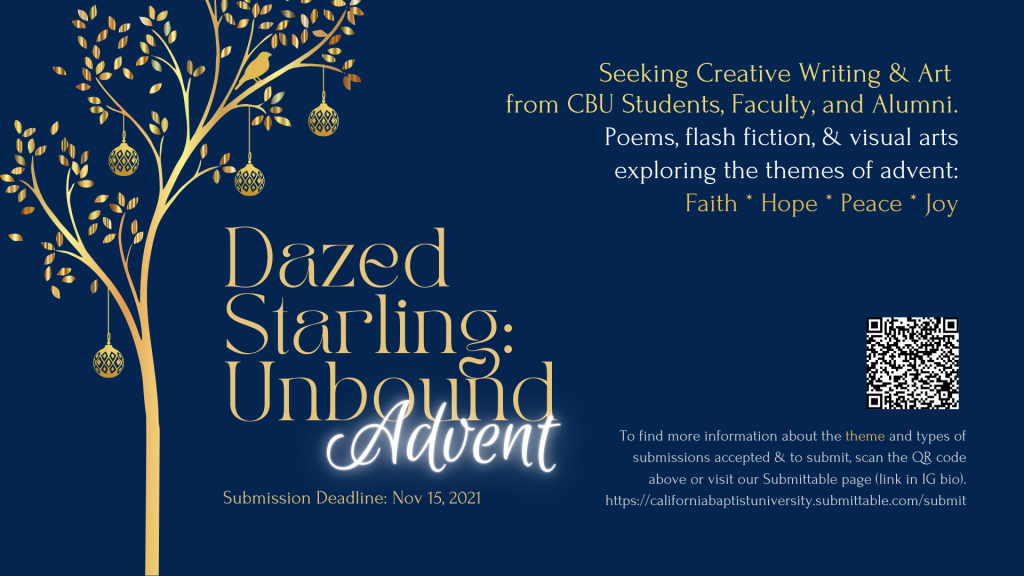 The theme for this winter edition of The Dazed Starling: Unbound is "Advent." We welcome various interpretations of this theme that focus around faith, hope, peace, and joy. They need not be Christmas stories.
The Dazed Starling: Unbound also seeks to extend the creative voice of The Dazed Starling student literary journal with additional emphasis on visual arts. Artistic pieces should be submitted as JPEG or PNG image files. We are particularly looking for works embracing our theme. Still, We are open to various forms—photography, computer-generated images, paintings, drawings, line art, black & white, monotone, full color, everything! (Peace connected to the Advent theme are especially encouraged.)
Whether written or visual, all submissions must be previously unpublished with all rights held by the submitter. All submissions should consider the mission and spirit of the university.
Multiple pieces may be submitted in one submission. Authors may submit up to 3 poems and up to 500 words of prose (fiction or nonfiction–we're looking for short pieces up to 250 words each). Artists may submit up to 5 pieces of visual art.
For more information or to submit, visit our Submittable site.