Writing Stories: Size & Scope
Connor Ryan
One of the most complex aspects of writing a story is knowing the scope of an idea. Writers often find themselves writing an epic fantasy and running out of gas halfway through, or they might try to cram a century of worldbuilding into a flash fiction piece. It happens to nearly every writer and often becomes a roadblock that stops a story from reaching its full potential. So how can writers narrow or expand their plot?
M.I.C.E. Quotient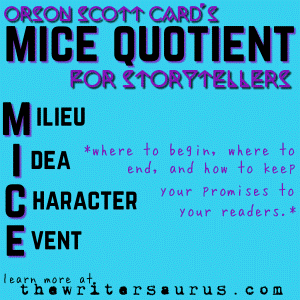 The best way to understand the scope of your story is to examine Orson Scott Card's M.I.C.E. Quotient. Card outlines four main aspects of a story's focus in his book, How To Write Science Fiction and Fantasy, and Character and Viewpoint. These are milieu, idea, character, and event. Most fantasy novels, such as The Hobbit by J.R.R. Tolkien, revolve around the story's milieu, also known as the setting. With many pages describing forests, kingdoms, and lore, the emphasis on milieu is apparent in the Hobbit, yet it also embodies the other three principles of storytelling. Stories that revolve around character spend less time on the plot and more time focusing on how the character acts and reacts to their environment. Stories where an event pushes the plot forward, such as Stranger Things or The Umbrella Academy, are generally more action-packed. The development of characters and worldbuilding often take a backseat to the stakes.
Writing a Novel
When attempting to create a novel, writers should have a combination of two or more of these principles to justify its length. For example, a mystery novel is based upon an idea, a question of who performed a crime. However, for the reveal to have a significant payoff, the author must spend time developing each character through their motives and desires. Thus, if a writer has a story that focuses on the milieu, the next step to extend the plot is to explore the characters' relationships with one another. The longer the story, the more elements of the M.I.C.E. Quotient should be included.
Writing a Short Story or Flash Fiction
Writing a short story is often much more complicated than people think. People tend to have ideas that are too big to fit into a few thousand words. If writers struggle to make their story more concise, they should examine their plot for the underlying focus. Is it milieu, idea, character, or event? Once the writer has discerned which of these is most important to their narrative, they can begin eliminating things that do not further that concept. For example, suppose a writer is writing a fantasy story that focuses on the life of a single fairy. In that case, the writer can hopefully eliminate some unnecessary backstory and lore and instead spend more time fleshing out the fairy into a three-dimensional character. Essentially, short stories, especially flash fiction, should focus on one concept and eliminate any excess storytelling.
Creating a story is about finding the right balance of elements that best deliver a writer's idea. Card's M.I.C.E. Quotient can be especially helpful to beginning writers as it allows them to identify the main focus of their story as well as ways they can make positive additions or subtractions from their plot. I highly recommend any writer to pick up a copy of Orson Scott Card's How to Write Science Fiction and Fantasy, and Character and Viewpoint, as it provides valuable information to all writers looking to write a novel or short story.