Comments Off

on Exciting Opportunities Await in Allied Health Professions – From an Alumni's Perspective
Exciting Opportunities Await in Allied Health Professions – From an Alumni's Perspective
There are many opportunities within the Allied Health Professions at California Baptist University (CBU). Each occasion had a monumental impact on my knowledge base, personal growth, and spiritual journey. I studied Kinesiology with an emphasis in sports medicine hoping to gain the prerequisite knowledge for either physical therapy or athletic training (AT). Through many conversations with peers, professors, and administrators, I realized that AT was the profession for me. Choosing the AT route has allowed me to apply, attend, and study in the Master's Program here at CBU. While this seems like a simple chronology of my life, I believe it highlights the love and support that the Allied Health Professions offers through every administrator present.
My knowledge when considering kinesiology was quite minuscule upon entering the Bachelor's program at CBU. Fortunately, the department has established an amazingly thorough tract for students interested in future sports medicine careers. Through a variety of courses, (biology, anatomy, biomechanics, etc.) I attained familiarity and knowledge surrounding the human body and the inflictions that arise when placed under various types of stresses. To ensure that each student understood how to assess different injuries, sicknesses, and emergency scenarios, nearly every class included physical activity, group practices, and labs that aided in internalizing the knowledge presented. Although classes were always challenging, these kinesthetic learning opportunities made the material more attainable to learn and retain for future use as a health professional.
In addition, I was able to interact with my professors on a personal and professional level in and out of the classroom. As these professors spend their time within the careers that we (as students) desire most, they are more than willing to elaborate on their experiences for the benefit of each student. The volume of interpersonal communication found at CBU is not commonly displayed within other universities, which has been a key component for myself as I discovered my passion for the AT profession.
This department not only provides amazing professionals and role models within their respective professions but also within faith and their spiritual walk. Every professor is willing to share their knowledge and experiences that they have accumulated as they have been Christ followers. While some are more verbal than others, each professor does an excellent job at pointing everything we learn about the amazing design of the human body back to God. This was unexpected and served as a beam of hope, as I am a young adult continuously looking for support within the Christian community.
Overall, my time within CBU's Allied Health Professions was highly enlightening in many different sectors of my life. The growth I obtained during my studies was priceless to me and will help me treat myself and others positively for the rest of my life.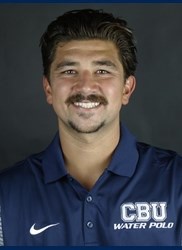 Caleb Rogers
B.S. Kinesiology, Sports Medicine