Doctors combating climate change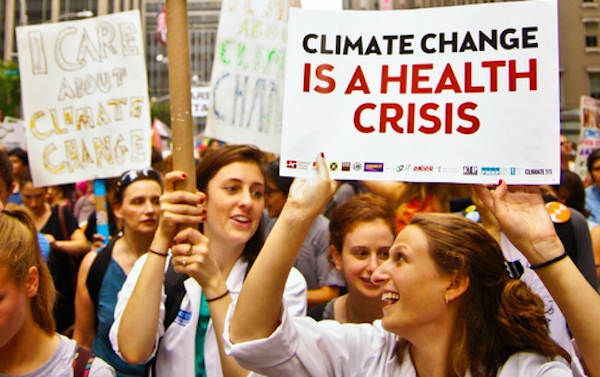 Climate change is already harming people's health by promoting illnesses linked to warmer temperatures and changing weather patterns, a leading group of U.S. doctors says in a new position paper.
As a result, the American College of Physicians (ACP) is calling for aggressive, concerted action to fight climate change by curbing man-made greenhouse gas emissions. Respiratory illnesses, heat stroke and infectious diseases like Zika virus, dengue fever and cholera are flourishing as global temperatures rise. In the paper, published online April 18th in the journal Annals of Internal Medicine, the ACP outlines the health problems that it says climate change is already creating:
Respiratory illnesses, including asthma and COPD. Rising temperatures are causing an increase in ozone pollution, smoke from wildfires, and allergens produced by weeds, grasses and trees. Homes affected by heavy rains or flooding can become host to toxic mold and fungi.
Heat-related illnesses, such as heat exhaustion and heat stroke, which are particularly dangerous for children and the elderly.
Insect-borne illnesses, like Zika virus, dengue fever and chikungunya, which are ranging farther north as mosquitoes thrive in warmer climates.
Water-borne illnesses, such as cholera, which can spread if drought causes poor sanitation or if heavy flooding causes sewer systems to overflow.
Mental health disorders, including post-traumatic stress disorder and depression connected to natural disasters, as well as the anxiety and stress that accompanies days of hot weather.
The health care sector is ranked second-highest in energy use, after the food industry, spending about $9 billion annually on energy costs, the position paper stated. Health care systems can reduce their carbon footprint through energy conservation and efficiency, alternative energy generation, green building design, improved waste disposal and management, and water conservation, according to the paper.
This paper brings awareness to climate change and emphasizes physicians being advocates in their own health systems, communities, and practices to reduce carbon emissions.
Source: MedLine Plus
Maria Perez, Health Science Pre-Med
Student Blogger
College of Health Science