Using Your God Gifted Abilities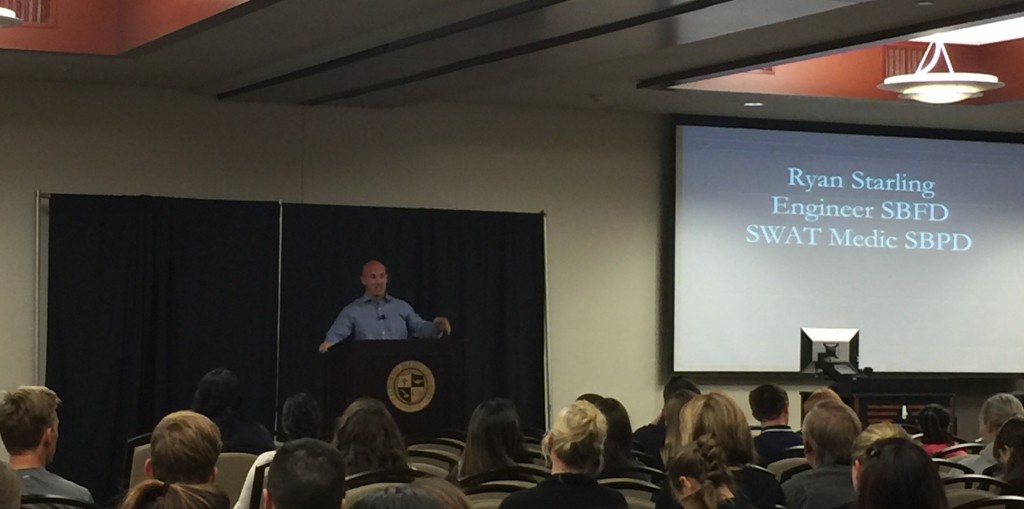 On Tuesday, March 8th, we had the privilege of having Mr. Ryan Starling as our second guest speaker for the Distinguished Lecture Series. He has worked for San Bernardino City Fire for eleven years and currently holds the position of Engineer Paramedic. Along with his firefighter duties, he is responsible for conducting new-hire testing, new-hire background investigations, new-hire background investigations, new hire probationary training, department training and certifications, and is currently assigned to station headquarters on the tiller truck. Ryan has received multiple Letters of Accommodation for his actions with the department. Along with being a firefighter, he is also a Tactical Medic on the SWAT team with the San Bernardino City Police Department. He is responsible for the medical safety of his fellow officers in a tactical environment, serving high-risk warrants, and responding to barricaded suspects and hostage situations. Additionally, he is responsible for the medical training of the SWAT team and teaches Active Shooter classes to surrounding agencies with fellow members of his team.
Ryan spoke about his journey leading him up to where he is now. He attended and played baseball at CBU back when it was California Baptist College (CBC). He began his journey as an EMT, and then worked as an ER Tech at Parkview Hospital. He then applied for the fire academy and left CBC and his baseball career. He then continued working as a firefighter up in Northern California and then got married to his wife, Tracey. He then applied to come back to CBC and also applied to paramedic school. Just as he was getting ready to return to CBC, he got accepted to paramedic school and decided to leave CBC once again. After working as paramedic, he got an offer for San Bernardino Fire Department. He then got offered a position as a SWAT Tactical Medic and has been working there for many years now.
This all lead up to December 2nd, the worst terrorist attack in the country since 9/11.
That morning Ryan and his team were at SWAT training doing active shooter training, ironically. They went through the first scenario, continued on to the second scenario and then they heard the dispatcher's voice. Ryan and his team were 22 minutes away from the location of the San Bernardino shooting, according to Google Maps. They got there in 9 minutes.
He went on to mention that anyone in law enforcement was paged; they wanted to flood the area as fast as possible. After arriving at the scene in 9 minutes, they went around the building and encountered multiple people outside. Their job was to get inside and trying to find out where the shooter was, alongside gathering all kinds of information.
The day of the shooting, the innocent people that work at the Inland Regional Center were having their Christmas party. It is known that the suspect was in fact in attendance and left the room during the event, leaving a backpack on the table and returned 35 minutes later to commit this horrific attack.
Ryan remembers hearing screams, multiple cries, food on the table, water falling from the ceiling because the fire alarms had been pulled, the smell of gunpowder and small trails of blood coming in to the room along with the water. He continued through the room, trying to find the threat. The SWAT team continued upstairs and Ryan stayed down stairs to begin triaging and treatment for over 40 patients by himself. He continued on by going through treating and triaging patients. His job is to do the greatest good for the greatest amount of people.
That day they treated and transported 26 patients. The goal is to get a critical patient to a surgeon in under an hour, and they were able to get all critical patients to a surgeon within 57 minutes. Getting patients to a trauma center within an hour is critical; after an hour, the survival rate goes down to 50%.
What Ryan truly emphasized and repeated is that the county workers were the true heroes that day. There had been a course taught in what to do in case of an active shooter at that same location a year prior, and the workers had remembered their training and saved many lives that day.
On December 2nd, we lost 14 innocent lives due to this horrifying terrorist attack that happened in our own backyard.
Ryan is a firm believer that God was present in the whole situation. In fact, when they advised the nearest level 1 trauma centers about bringing in critical patients, they found out that Loma Linda Medical Center and Arrowhead Regional Medical Center had all their surgical rooms cleared that day and that never happens. Although the media never played the footage of Ryan saying God was with them that day, he truly believed that. After he realized the media was not going to play anything with the word 'God' involved, he continued by saying it was divine intervention.
After treating the patients on the scene, Ryan was also part of the team that was on the BearCat (an armed vehicle) that was called to rescue an officer that was down. That happened during the shootout with the suspect and several law enforcement officials. Ryan and the team did not have to rescue the officer after all, because he self rescued and continued in the shootout with the suspect. The suspects eventually passed from their wounds from the shootout. They were a husband and wife and had this completely planned out; they were ready to go to war and were extremely trained and prepared. As for many of us, Ryan too agrees that this was one of the most horrific days he's had to encounter in his career, thus far. He really believes that multiple lives were saved that day thanks to the many law enforcement officials and county employees remembering their training and putting that into motion.
In case of an active shooter in your premises, run out of the premises as fast as you can. If you cannot run, hide and pray, lock all the doors and do not open the door for anyone. If you cannot hide, then fight. Fight with all that you have, throw things, distract the shooter. This can delay the active shooter and prevent many lives from being taken.
In closing, Ryan left the students with some words of wisdom:
"Never make rash decisions, always sleep on things, listen to people, look people in the eyes. Remember that please and thank you's go a long way. In everything that you do let the Lord be a light through you. Always lead by example and let the Lord's light shine through you. People will notice the difference. Even if you have a horrible boss, remember that you are a servant of God and do everything to the best of your ability. You have the ability to impact and save lives so continue to push hard and improve yourself in education and the field that you are in."
What a truly impactful and inspiring lecture. Thank you Mr. Ryan Starling for your service and for your willingness to come speak to our students about what happened on December 2nd. We would also like to express our thanks to all the law enforcement individuals that partook in protecting our safety that day and everyday.
Maria Perez, Health Science Pre-Med
Student Blogger
College of Health Science