GMHC Recap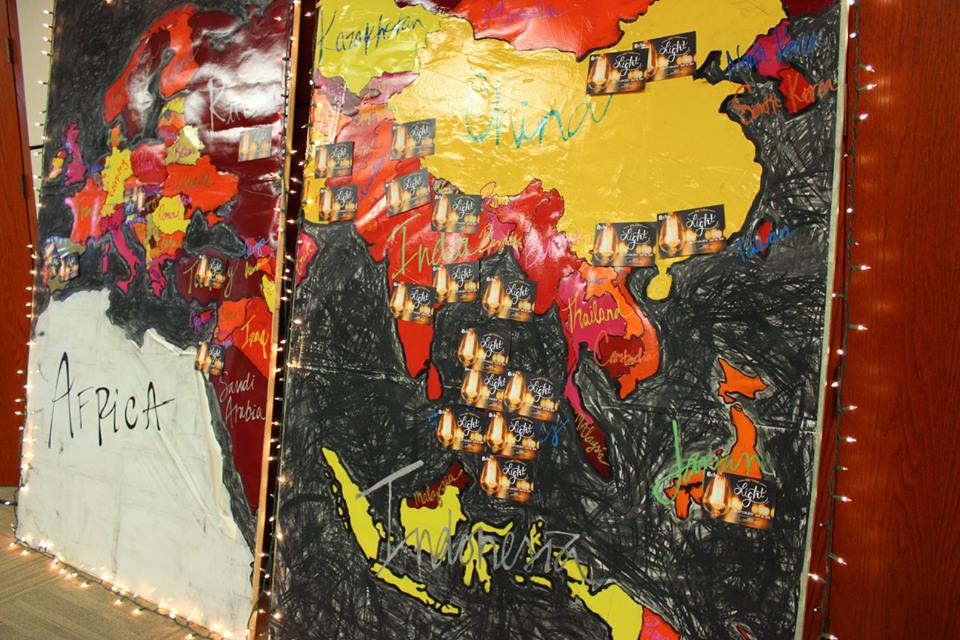 On January 22-23rd, California Baptist University's College of Health Science and the School of Nursing co-hosted the Global Missions Health Conference. The purpose of this conference was to gather students and faculty and to explore a life of medical missions.
We began the afternoon with Dr. Oaks, Dean of the School of Nursing, welcoming the attendees and setting the tone for the evening with an inspiring quote.
"As long as you're here and breathing, be willing to make a difference."
The conference kicked off with worship and Jeff Lewis speaking on God's heart for the nations. He spoke on some mission myths such as "I'm not called to full time ministry" and "the nations will be discipled through the vocational missionary" He talked about how God has already called everyone who has recognized him as savior to serve. He also mentioned that while we are here, we are preparing ourselves physically, spiritually and intellectually, as disciples of the nations who have been called to be ambassadors of the nation.
Jeff also talked about how our intentions to serve should not be man centered, but God centered. It's not the goals and dreams that we have for ourselves that set the agenda, what sets the agenda is the call. If you're truly mobilized for Christ, the calls of Christ should dictate your life. He ended his talk by saying our hearts; beat as His heart, our mission should be His mission.
After this the attendees broke out into small groups and began their discussion session. These discussions were lead by some of our faculty and staff. The groups would debrief the talk they just heard and think more deeply about how it can be applicable to their lives. Following the discussion sessions, there was worship and then a bonfire with a full s'mores bar and hot cocoa bar. The attendees were also able to visit the exhibitor's tables and interact with each other in a time of fellowship.
Day 2 of the conference was a fun filled day. The conference started out with worship and then a talk by Jerri. Jerri is a nurse who has served overseas for about 15 years. She gave her personal testimony as to how God brought her to be where He wanted her to be. This truly was an inspiring and heartfelt talk. The main point of Jerri's story is that it is never too late, you are never to old, and it doesn't matter where God is taking you, make sure you are obedient and follow Him and He will take care of the rest. Do not spend your time worrying; insteadspend your time praising him.
The second keynote speaker was Dr. Rebekah Naylor, who spoke on the joy of obedience. She began by stating that joy is the result from knowing God. The word joy is used in the bible over 150 times. She went on to say that the source of Christian joy is union with Jesus Christ. The whole of our nature is and should be center on Jesus. The joy that she was referring to is independent of circumstances, and that sometimes the bad circumstances increase our joy. She said that in times of testing or temptation, that is when we should fully surrender ourselves to God. We need to be totally sure about submission to God. In Nehemiah, it states that the joy of the Lord is our strength. When you have this joy, you can endure the things that are difficult in you life. Then she went on to talk about how obedience comes into the picture. Being obedient brings tremendous joy. We see many characters in the bible who were overfilled with the joy of the Lord by being obedient. She told a story about a woman with tuberculosis, whom she helped heal physically and spiritually and how, that brought her so much joy. She wrapped up her talk with one quote "obey and discover the joy."
Brian Zuniga was the last keynote speaker and his talk was titled "A call to action". He began by asking us to reflect on our lives and where we currently are at the moment. He said that we should see where Jesus is moving and move accordingly, but keep in mind that flying across the ocean does not change your life. We must learn to change our lives and the lives of other lost people around us. He related spirituality with health by telling the attendees they should use "spiritual triage", which is addressing the biggest need first. He also went on to say that you should give your life to a task and not a time. Once again, you see that you can serve anytime, anywhere, any place. He wrapped up his talk by leading the attendees into a time of reflection and worship.
The conference concluded with students and staff writing their next steps of commitment onto the back of a commitment card and placing them on a map to wherever they feel they are being called to serve. This was truly a wonderful conference and a very eye-opening and heart-opening weekend. We hope that you will join us next year at the Global Missions Health Conference – West Coast.
Maria Perez, Health Science Pre-Med
Student Blogger
College of Health Science