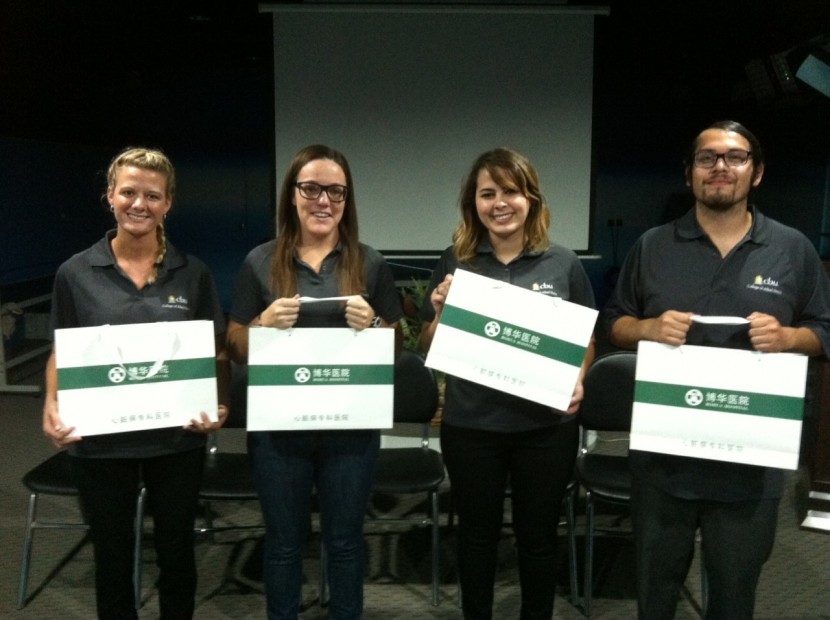 Global Health Engagement: Bo Hua Final Chapter
This week was quite busy for the Bo Hua Global Health Engagement Team. We started out the week siting in on a bi-yearly meeting that focused on the hospital's income report for the past six months. It was interesting learning about the significant growth of Bo Hua's yearly income, increasing from ¥1,880,000 in 2001 to ¥4,600,000 in the first half of 2015! The Global Health Engagement Team was blown away by these figures. In the afternoon we explored the IT and Finance departments. Mr. Du, the vice president of the IT department, explained the hospital service system that collaborates information regarding patient service, storage, income, nurse station, and insurance. He also showed us the surveillance system of the hospital, accessible from his phone! After learning about IT we headed for the Finance department, where Mr. Shu taught us about this department's responsibilities, which included clinical costs, purchased medications, and Bo Hua's pay roll. In this department, we found out that it is ¥25 to stay in the hospital overnight and that surgery makes up the majority of the hospital's income.
The next day we spent the morning climbing a steep mountain, located just outside the city. None of us made it to the top, but we did make it to a platform that had an incredible scenic view of the city. It was safe to say that this mountain gave all of us a major calf burn! In the afternoon, we travelled to Jin Shu's house for a delicious lunch followed by a boat ride on Soong Hwa Lake around Turtle Island.
On Wednesday, we were given a tour of an affiliated hospital in Jilin City. First we learned about the capabilities of the CT and MRI machines. On another floor we were able to see the extensive laboratory that included microbiology, routine blood testing, urine analysis, and a room dedicated to PCR (Polymerase chain reaction). Additionally, we were able to observe a heart surgery from the viewing room, which we met Dr. Lu, a renowned heart surgeon in China. Soon after we headed for the Stroke Rehabilitation area. It was interesting to learn that stroke rehabilitation is a fairly new concept in China and reassuring that its prevalence is growing due to the importance of motor therapy directly after a stroke occurs. The last floor, and most noteworthy experience on the hospital tour, was the surgery floor where the Global Health Engagement Team was able to scrub in and observe surgeries up close. We saw many surgeries being done, such as on a thyroid and bilateral calcaneus fractures. It was an awesome opportunity and we are extremely grateful for it!
The following day Mr. Gao and Miss Miao took us to a Western shopping mall. At lunch, they brought us to a place frequented by the local Jilin people, including Bo Hua hospital employees. Nurse Li and a few others from the hospital met us there. This restaurant served "Malatang," which allowed us to make our own bowl of noodles. We soon discovered why it was such a popular place. The food was delicious, and arguably the best noodles we ate during our stay in China! After lunch we ventured into the countryside looking for the horseracing track and became lost within a few rural villages. Though becoming lost is typically associated with frustration, it was actually great team bonding time along with us realizing that Miss Miao is quite the jokester! Additionally, seeing the way many Chinese people live in the countryside was a good reminder for us to be grateful for what we have in America. Later that night, Miss Miao invited us to her apartment and we enjoyed a popular dinner called "hot pot," a Chinese style soup loaded with noodles, vegetables, and meat. She stuffed us with yummy food and brought us back to the hospital.
On Friday the Global Health Engagement Team gave our final presentation to Dr. Sands, Jin Shu, and several of the Bo Hua staff that taught us during our stay in China. After the presentation, it was an emotional time for us all, especially when Jin Shu started crying when thanking Dr. Sands and the Global Health Engagement Team. This moment made us realize that this practicum exceeded our expectations and though we learned much about working in a hospital, it was blatantly obvious that the relationships formed on this trip was by far the most important aspect of this entire experience. After our presentation, The Global Health Engagement Team and the Sands family went to the shopping district one last time. In the evening, our Farewell Banquet took place at Jin Shu's favorite Brazilian Restaurant. It was wonderful learning about Jin Shu's life under Chairman Mao. Despite the adversity she faced, she persevered and founded Bo Hua Hospital. Jin Shu is an incredible lady that inspired the Global Health Engagement Team to always be the best we can be.
The final day in China, Dana and Ashlee went on their last morning run around the river, feeling more nostalgic than ever before. In Chinese culture, the first meal one has when coming to China is noodles and the last meal is dumplings. The Global Health Engagement Team was thrilled with this tradition, and savored our last meal of dumplings! We said our goodbyes and departed Jilin City. After many hours of standing in lines and sitting on planes, we finally arrived home. We were very excited to be reunited with our families.
It is crazy to think that we have already returned and that we are in the process of readjusting to American culture. Though America and China have tense political relations, it did not seem to have an effect on the life lasting bonds that were created between the Global Health Engagement Team and Bo Hua. Dr. Sands stressed the concept that "Life is all about relationships," and we cannot help but to agree. With America being an individualistic culture, it is easy to become so focused on our own success that we lose sight of the importance of relationships. As followers of Christ, it is our primary calling to be in relationship with God. This entails glorifying Him through our relationships with others in a loving manner.
At the end of the day, it does not matter how much money you have or what kind of car you drive. What does matter is the quality of our relationships with Christ and with those around us. This is a life long lesson that the Global Health Engagement Team will always remember!
Ashlee, Dana, Juan, and Stephanie
Global Health Engagment Bo Hua Team