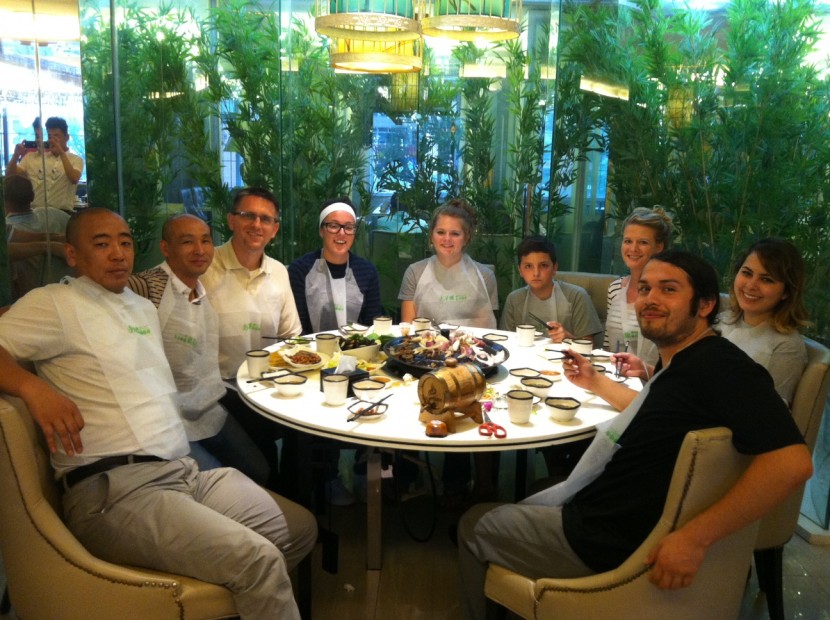 Global Health Engagement: Bo Hua Update #4
It's been a busy week in Jilin, China as we have spent our time rotating through the hospital and exploring more of the city. We started the week by helping institute a cardiac rehab program at the hospital. The GHE team taught various exercises to the doctors who will be leading the program. It was fun to demonstrate how to preform squats, bicep curls, and balance exercises. That night we had one of our favorite meals in Jilin. We were treated to Mongolian BBQ where they cooked meat right in front of us. Monday and Tuesday we participated in morning rounds with the doctors. The doctors are very attentive and spent a vast majority of their morning explaining the history of the patients and the medications they are currently on. Later on in the week we had the opportunity to watch several ultrasounds on the heart, liver, and thyroid. Afterwards we made our way to the lab where we were introduced to the various tests that are run on patients' urine and blood. We had the opportunity to look at urine samples under the microscope and were taught how to differentiate between a normal and infected sample. One of the lab technicians allowed us to run tests on the blood to determine the pH and electrolyte composition. One of our favorite activities is working with the cardiac rehab patients who are so willing to learn and improve their quality of life.
This week we were also introduced to the business side of the hospital. We spent time in HR where Mr. Gao explained the hiring process, the role of the staff, and performance salary. In the IT department they showed us how to use the hospital information system and explained the basics of insurance. On Sunday we made our way to a countryside church about an hour outside of the city where the doctors conducted a clinic for the rural residents. They preformed EKGs, blood pressure screenings, and prescribed medication. It was nice to get out of the city and see a small glimpse of how the majority of China lives. Another excursion that we went on was to Bei Hua University, which is the city's largest university. The campus was huge compared to CBU and the library was five stories. We also had the chance to see Jilin Medical University where they grow herbs for traditional Chinese medicine. This week for fun we took two of our Chinese friends to karaoke, more commonly known as KTV in China. We sang the night away in our own private room and woke up the next day with raspy voices. During our free time we are spending time in deep discussions about God and China. We can't believe we only have five days left and we plan on making the best of the remainder of our time here in Jilin.
Ashlee, Dana, Juan, and Stephanie
GHE Bo Hua Team