Dr. Morgan's book, The Kingdom of God, on The Gospel Coalition

The Gospel Coalition referenced Dr. Morgan and one of his recent books entitled, The Kingdom of God, today in one of their blog posts.  The blog post is What's Universal and Particular, Already and Not Yet? by Matt Smethurst.
Below is an excerpt of the post and you can read the full version of the article on The Gospel Coalition website. 
_______________________________________________________
Kingdom ethics. Kingdom work. Kingdom building. Kingdom focus. Kingdom ministry. Kingdom you-fill-in-the-blank.
Whether employed as an adjective or a noun, the kingdom of God has become a popular subject in contemporary Christian conversation. And for good reason. It is, after all, a massive biblical category—so massive that it's easy for the concept to become blurry and disjointed.
With this confusion in mind, Robert Peterson and Christopher Morgan have edited The Kingdom of God, a volume intended to articulate a full-orbed view of the kingdom from the vantage points of the Old and New Testaments as well as historical, systematic, and practical theology.
Read full article here.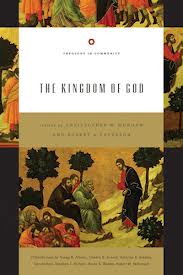 See The Kingdom of God in amazon.com