Ahh yes, it is that time a year again; school time.
The time a year where social media is flooded with the best tips and tricks for a successful school year and you cannot enter a store without school supplies or apparel daunting you at every turn. Conversations are centered on our major or our plans for the future.
What is our career goal? Or where are you applying to grad school?
While I am a sucker for a rhyming blog, or the typical ten easy steps for success, I rarely get past step four before feeling weighed down by the pressure of assignments and step five through ten go right out the window (along with sleep and spontaneous trips to the beach).
I am entering my final year at California Baptist University, which is both welcomed and feared. Truthfully, I never thought my senior year would come. I transferred to CBU three years ago after many years at Riverside City College and a total of five majors. I am pretty sure I have more extra curricular units than I do major specific units.
I would be happy to write a blog about what I have learned or advice would give incoming freshman; however I would like to offer something more personal about my undergraduate experience: a brief reflection I can now offer only after enduring failure, success, loss, and gain, a taste of life that has re-framed the way I view not only myself, but the way I will approach education.
I spent the last three years trying to balance school, family, and work. From soccer games, anniversaries, finals, and oh so much more. I constantly placed pressure on myself to excel in every area of life. I defined my success by how well I was balancing my responsibilities. I created unrealistic expectations for myself. I began finding my identity in my grades and lost sight of the reason I dreamed of college to begin with.
It wasn't until I dropped my son off at school right before the start of summer, that my world was shaken by a short sentence I say to my son everyday when he gets out of the car: "Do your personal best today."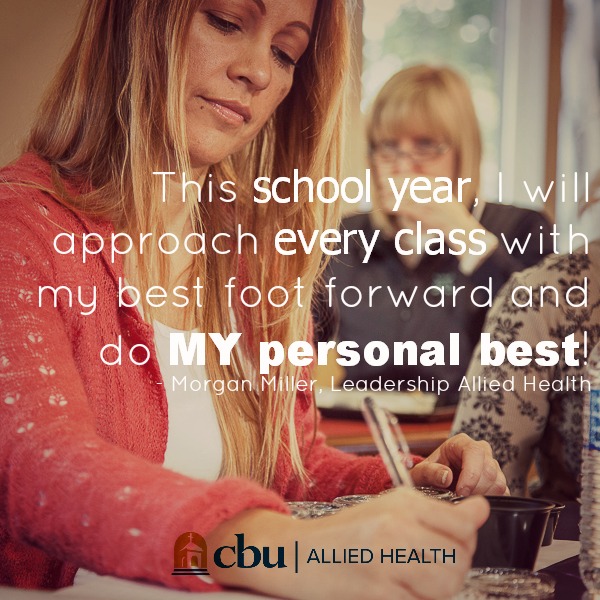 My accomplishments and my failures are lessons that shape me. My personal best will never be the personal best of someone else. That is both glorious and life changing. It is my best and I will own it.
I was not saved by the grace of God to lose sight of the moment and continually place myself inside a box that is defined by grades. The truth is I will never be able to "balance" the responsibilities in my life because they hold not weight; I cannot categorize myself into a box because I am a human, a soul, and an individual that is constantly evolving.
So, this school year I will approach every class with my best foot forward and do my personal best. I will not compare myself to others and I will be proud of my accomplishments. I will take the time to enjoy the moment and not lose sight of the reason I began this journey here at CBU. I hope you all will do the same.
Morgan Miller
Health Science, Pre-Physician Assistant
Leadership Allied Health
Student Blogger